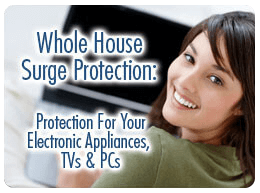 WHY PROTECT AGAINST SURGES?
Power surges can severely damage and break all types of electrical appliances with electronic circuits - from computers, to TVs, to white goods such as fridges and washing machines. In their most dramatic form surges can be caused by lightning storms, but also they can be caused by power company supply faults, and even faulty appliances within the home. One of the reasons why they can be so destructive is that they have the potential to break multiple devices and appliances at the same time - sometimes it's all of them that are effected.

THE OMEGA SOLUTION While many people may have a small plug-in protector for certain devices, Omega has a superior, cost-effective solution to protect all of your appliances. Our whole house surge protection installations are added at the switchboard panel level and carry a much higher level of protection than much smaller plug-in devices, and for the whole house at the same time.

GREAT SERVICE If you're interested in protecting all of your homes electrical and electronic devices from this common cause of damage, Omega Electrical can help with a level of friendly service that is second-to-none. We can give you a full up-front estimate, and provide on-time, satisfaction guaranteed service from Sydney's trusted licensed experts.
For all your surge protection needs in Sydney, call and speak with Omega Electrical today.
WHOLE HOUSE SURGE PROTECTION SYDNEY | SYDNEY SURGE PROTECTION | SURGE PROTECTOR SYDNEY | SYDNEY SURGE PROTECTORS | SURGE ARRESTER SYDNEY | WHOLE HOME SURGE PROTECTION SYDNEY | PROTECT LIGHTNING STRIKES SYDNEY | POWER SURGE SYDNEY | SYDNEY POWER SURGES | PROTECT COMPUTER SURGES SYDNEY | SURGE PROTECTOR ELECTRICIAN SYDNEY