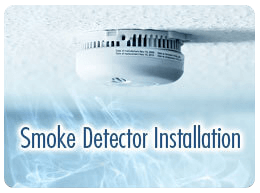 THE RIGHT SMOKE DETECTOR
Smoke detectors are a critical part of protecting your family and your home from the risk of fire. They are mandatory in all rented properties in NSW.
For the best system, choose a detector that is wired into your electrical system so that you're not relying on a tiny battery for your safety. It can then pull power from the mains, with a backup power supply to cover contingencies.
Omega Electrical can provide a full up-front estimate for a professional and safe installation of your new smoke detection system. We can also advise on the best spots to install smoke detectors in your home for your safety.
To find out more about how Omega Electrical can help with your smoke detector needs in Sydney, call and speak with us today.
INSTALL SMOKE DETECTOR SYDNEY | SYDNEY SMOKE DETECTORS | SMOKE DETECTOR ELECTRICIAN SYDNEY | SMOKE DETECTOR INSTALLATION SYDNEY